Sports Surfacing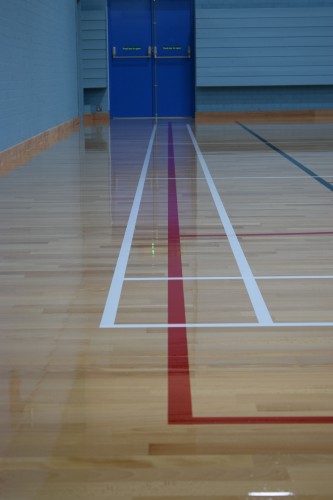 A sports floor has to perform in many ways. It has to absorb shocks in order to minimize the risk of injury. But it can't be too soft, as it becomes tiring for the athletes. The floors friction is possibly the most important factor.
Too little friction increases the risk of slipping, while too much friction increases the risk of injuries. We can advise you on the best sports surface or finish for your particular needs, from Natural wood, Granwood, PU or vinyl.
From badminton courts, gymnasiums, and squash courts to recreation areas, sports halls and dance studios our team of specialists give old sports halls a new lease of life with a total floor refurbishment to the installation of custom made multi purpose surface types, such as cushioned acrylic, Gerflor (Taraflex) and Polyflor sports surfaces, you can rest assured that all sports surfaces are expertly installed to meet both performance and budgetary requirements.
PU Sports Surfacing Firstly the substrate is checked for moisture content and the correct levels. If needed a waterproof membrane or self leveling screed will be applied. A 6mm prefabricated rubber matt is fixed to the substrate using a two-pack polyurethane adhesive.
This is then overlaid with a two pack polyurethane pore filler, when this has cured a 2-3mm self leveling polyurethane wear layer is applied. Using large industrial rollers the final top coat is applied leaving an even matt finish.